Home
The Toy & Teacup Clothing Line
Toy & Teacup Heavy Fleece Bodysuits
Toy & Teacup Heavy Fleece Bodysuits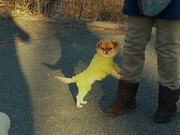 An irrestible supersoft heavy fleece Bodysuit is designed to set a new protection standard. A form fitting shape covers your dog from head to toe, with a choice of turtleneck or hoodie, four leggings, total belly coverage, and a buttonhole for harnesses. These suits have no velcro, zippers or clasps. They stretch to the width and are cut to allow dogs to perform all activites without interference.
Made to last from the best velour fleece, thay are perfect for cold weather. Their versatility is wonderful, with solid colors matching the Overcoats and Raincoats. this enables the Bodysuit to be worn for added warmth in the coldest or rainiest weather. Stretching for easy on/off, resisting rain, and fast drying wash and wear!
Teacups: Length= 7-8" Girth= 11-12" Toy: Length= 9-10" Girth= 12-14"